Okay, so when I first heard of Bakerella, I was intrigued. She turned average cake balls into little bitty works of art!
I love this one. The chicks are soooo cute!
And so today, I saw that I can check out where people are coming to my blog from. Mostly it's Facebook, since I did share the site with everyone there. :) BUT! (I do have a point, I promise.) There was one website that stood out from the rest. And it was.... Bakerella.com! Bakerella read my blog! OMG OMG! I love you guys for reading, too, don't get me wrong. But she's my idol!!! That bit of news totally made my day today.
Also, I'm a part-time nanny for two of the most adorable kids on the planet. Ethan and Alexa, 3 and 8 months. So Ethan and I were playing "Star Tours" with play-doh star tours ships that he made himself, and I would love to share this conversation we had.
Me: Obi-wan told me you're a jedi and you have to use the force to run away from Darth Vader!
Ethan: Why is he there?
Me: Who, Darth Vader?
Ethan: No. Oba-lun. (He's not quite there with the names yet. But hey, he's super cute, so it's totally fine!) How'd he get there?
Me: Where?
Ethan: The forest.
And of course, I had to stifle my chuckle because he's just the cutest thing ever. And kids really do say the darndest things!
Anyways, I know the REAL reason you checked my blog is because your mouth is watering and your hands are itching for something to bake. My mom's best friend used to sell Pampered Chef stuff (which I love! Perfect Christmas presents, hint hint!) and would always hook us up with some deals. And if you've never bought PC stuff, let me tell you this wonderful tidbit: all of their baking equipment comes with recipes for you to test out with your new purchase! And so I decided to peruse some of the recipes for a new favorite. I found this:
Cherry Cheese Coffee Cake! (look at that alliteration! I'm a nerd for English, too. Don't judge me.) With cream cheese, one of my all-time favorite dessert ingredients!
Photo © Jessica at Catholic Cuisine
Confession: This isn't my picture. I regret that, when I made this for my hubby before we got married, I left it with a house full of boys to get my camera for photographing my lovely work. I was gone only a minute or two, but that's enough when you're a bachelor who eats basically only ramen noodles or Hungry Man dinners. :( I did get a taste, however, so I guess that's enough. It was amazing!! You can view the blog this photo belongs to
here
. And you can substitute anything you want for the cherry pie filling. Here it is, ladies and gents!
Cherry Cheese Coffee Cake
For the Coffee Cake:
2 packages (8 oz. each) refrigerated crescent rolls
1 package cream cheese, softened
1/4 c. powdered sugar
1 egg
1/2 tsp. vanilla or almond extract
1 (21 oz.) can cherry pie filling (or any fruit pie filling, as long as it's in syrup!)
For the Glaze:
1/2 c. powdered sugar
2 to 3 tsp. milk
Preheat the oven to 350 degrees.
Unroll the crescent dough. Separate into 16 triangles, and set 4 aside for decoration.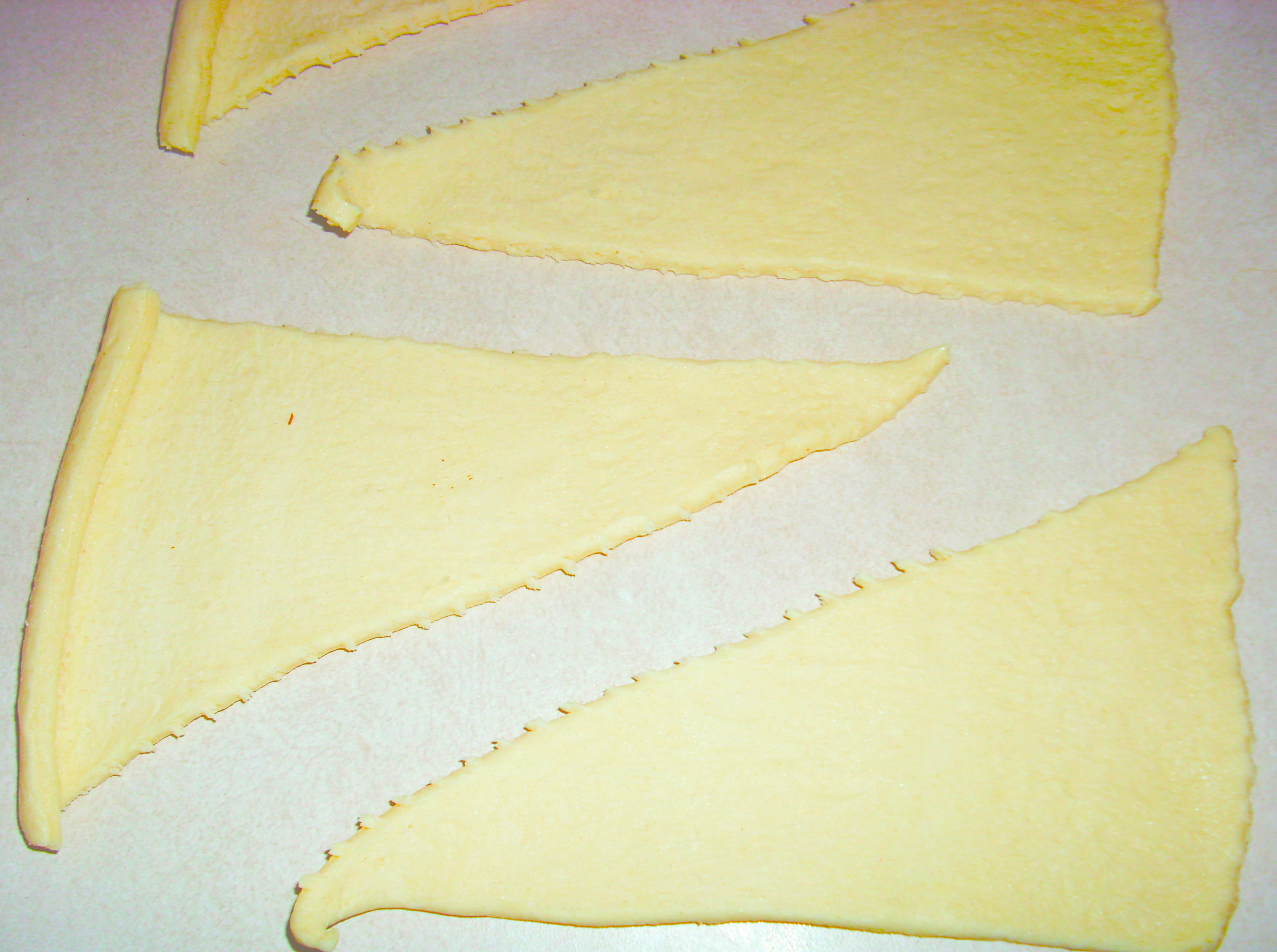 On a baking sheet, arrange the 12 triangles into a circle so that the longer points are in the center but do not meet. Use a rolling pin to roll the dough into a 14-inch circle, pressing the seams together and leaving a 3-inch hole in the center.
For the filling, combine the cream cheese, powdered sugar, egg and vanilla in a medium bowl. Mix until smooth and creamy and then spread over dough. Leave about 1/2 inch uncovered at both edges of the dough. Top the whole thing with your pie filling.
Use a pizza cutter to cut those 4 triangles you set aside earlier into thirds. Start at the wider end, as it's easier to judge where your triangle should be cut. Arrange the strips evenly over the filling and press the ends to seal at the center and outer edges.
Bake for 25 to 30 minutes, or until it's golden brown. Then drizzle the glaze over the top!
For said glaze, mix the sugar and milk until smooth. Pretty easy stuff. :)
Enjoy this recipe brought to you by the Pampered Chef, with my very own stamp of approval! I might make this again pretty soon, and if I do, I'll update the pictures for you guys. :)
Photographs from these websites: