How was your Christmas? Or whatever holiday you celebrate. Mine was filled with tamales, lots of family, and a new book! My husband got me the last book in the
Inheritance
series. And a new kitten to play with our (lazy) Sarina. I knew there was a good reason I married him.
I'm so glad the stores are back to their serene nature, with one or two people in the line ahead of me, not 15. Blissful am I that traffic is sane once again. And those post-Christmas deals? Who can complain about 50% off Christmas lights and new ornaments for the tree? Oh yes, this lull is quite soothing, considering I've asked Sam to undertake the re-creation of
Starry Night
out of cupcakes for my impending birthday. No pressure or anything. I think he thinks I'm joking. I'm so serious.
I did make him Cupcakes of Catan for his birthday. That was no easy job. I think this is a fair exchange. :) Here's what his birthday looked like:
Anyways, I'm sure you had your fill of pumpkin bread, pumpkin cookies, or pumpkin muffins. Right? I know I am about ready for them to retire. They're good, but I guess I'm just not their biggest fan. Also, I made pumpkin cookies at the very beginning of December for my youth group girls, and then suddenly, EVERYONE was making them. At the cookie exchange, there they were, stalking me. And just last night, a sweet family in our church brought over MORE pumpkin cookies. Boy, was I
thrilled
.
There is, however, one holiday tradition that I'm sad to see retire away for yet another year. Goodbye, my sweet eggnog. No more eggnog, ice cream, or fudge. It's such a shame. I guess that's why it always tastes so good when it comes around!
Anyways, on a completely new topic, I absolutely
love
the Pampered Chef and everything they sell (although, if you've read my past blog entries, you already know that). One of my favorite contraptions they have available for purchase is an apple corer-peeler combo. It looks like it belongs in a carpenter's workshop or something, but this baby is AWESOME.
It is one of those products you don't realize are absolute necessities until you try them. Seriously, I've never had more fun peeling and coring an apple!
The reason I bring this up is because with this wonderful gift my mother gave me several years ago, I found a wonderful recipe. For apple bread. Oh, did I mention the cinnamon streusel? This is one of the select few recipes that doesn't need chocolate to make it perfect.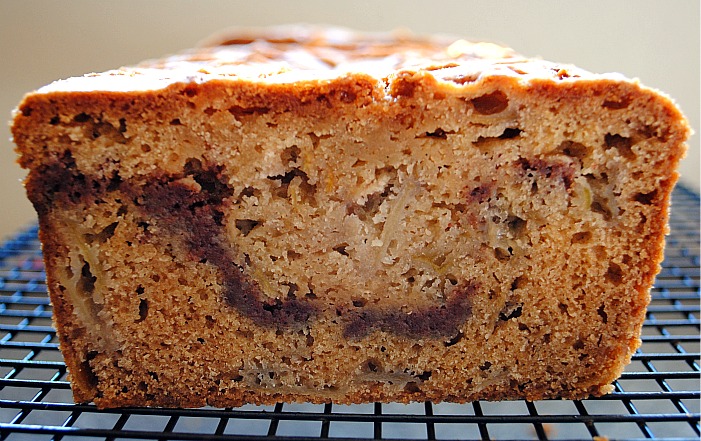 It tastes so delicious warm and smothered in butter. My mouth is watering just thinking about it! Mmmm...
For the Bread:
2 medium-sized Granny Smith apples (they have the most flavor when you cook them, much like brown, slightly gooey bananas make the best bread)
1/2 cup butter or margarine, softened but not melted
1 cup sugar
2 eggs
1 tablespoon lemon juice
2 teaspoons vanilla
2 cups all-purpose flour
1 teaspoon baking soda
1/4 teaspoon salt
For the Streusel:
2 tablespoons all-purpose flour
2 tablespoons sugar
1 tablespoon butter or margarine, melted
1 teaspoon ground cinnamon
I like to at least double my streusel, since I found that if you use the recommended proportions, it doesn't feel like nearly enough.
Preheat the oven to 350 degrees. Grease a bread pan.
Peel, core and slice your apples. (This is where that device comes in handy!)
Cream the butter and sugar in a medium bowl. Stir in the eggs, lemon juice and vanilla, mixing only until the dry ingredients are moistened. Chop those apple slices and fold them into the batter.
Spoon only half of the batter into the pan. Sprinkle with half of the streusel mix. Spread the remaining batter on top, then top it with the rest of the streusel, pressing it gently into the batter.
Bake for about 55 to 60 minutes, or until you can insert a toothpick and it comes out clean.
The recipe says it serves 12, but not in my house! Maybe 4.
Credit for Photos:
http://www.thekitchn.com/thekitchn/scavenger-nyc/nyc-scavenger-pampered-chef-apple-peeler-for-20-029203
http://www.you-made-that.com/best-apple-bread/
http://1.bp.blogspot.com/_tbIvoerljps/SnGoQU8M2yI/AAAAAAAAD7g/ZZhn854n6pI/s400/100_3256.JPG